OCT & True Color Fundus Camera
The Optical Coherence Tomographer, known as the OCT, is a scanning laser that captures MRI-like images of your corneas, anterior chamber, retina, and optic nerve. This highly specialized instrument is essential in the diagnosis and management of many eye diseases such as keratoconus, macular degeneration, and glaucoma, to name a few.
Widefield OCT Scan
Hood Report for Glaucoma with Probability Maps with 3D Wide 12x9mm Scan 
---
Medmont Corneal Topographer
A corneal topography test provides detailed 3D maps of the cornea's shape and curvature and enables detection of corneal diseases, and irregular corneal conditions, such as swelling, abrasions, deformities, scarring, and irregular astigmatisms. Keratoconus is also diagnosed by corneal topography. We can also use it in our orthokeratology myopia management.
A corneal topography test is quick and painless. During the test, you will sit in front of a lighted bowl that contains a pattern of rings, and rest your head against a bar.  A series of data points will be collected, and a color coded image of your corneal shape will be generated on a computer screen.
The images will contain different colors to differentiate elevations, similar to a topographic map of the earth.
The iCare Tonometer can measure the pressure within the eye with absolutely no eye drops and no 'puff of air'.
Based on unique, patented rebound technology, a very light and small probe is used to make a momentary contact with the cornea. The quick and painless measurement is barely noticed by the patient and anaesthesia or air puffs are not needed.
---
Just as every fingerprint is unique and no two snowflakes are the same, your retina is also one-of-a-kind.
At Horizon Eye Care & Optical, we will photograph your individual retina in order to detect any significant abnormalities. Using our Optomap Retinal Exam, Drs. Alireza and Sana Somji are able to inspect the image for a comprehensive view of your retinal condition. The pictures are generated instantaneously, so we'll be able to discuss the findings with you immediately in our Sugar Land, TX, office.
How Does it Work?
No dilation of your pupils is necessary for performing the Optomap Retinal Screening. We will simply ask you to look into the device, one eye at a time. You'll see a painless flash of light, and then it's over. We will store your precise, personal images from year to year to compare and identify any changes in your retina.
The Optomap is an advanced diagnostic tool that enables us to assess an ultra-wide field of view of your retina. Our optometrists may detect abnormalities such as blood spots, retinal holes, tears, and detachments or a choroidal nevus (a freckle at the back of your eye) in the pictures generated by this modern technology. Using Optomap in our Sugar Land, Texas, optometric practice helps us to diagnose the ocular disease at a very early stage, before you experience any symptoms. General health conditions, including diabetes and hypertension, may also be detected by analyzing Optomap photographs.
We have more than 20 years of experience examining eyes in Sugar Land and the Greater Houston area of Texas.
To benefit from the comfort and precision of our Optomap Retinal Screening, please contact us today, for an appointment.
---
Significantly more accurate digital measurements with Optikam!
Digital Measurements
Traditionally your eyewear fitting measurements were taken with a ruler. Now, at Horizon Eye Care & Optical, we only take measurements with our new, state of the art digital measuring systems called Optikam! Significantly more accurate than many other methods commonly used, the Optikam enables our opticians to obtain measurements required in the fitting process of your glasses.​​​​​​​
Frame and Lens Selection
Confused over which frames to select? Don't worry! Optikam lets you compare up to four frames on your face side by side! We also have illustrations to show you how thin your final lenses will be, and the benefits of many features such as polarization, transitions, and no-glare lenses.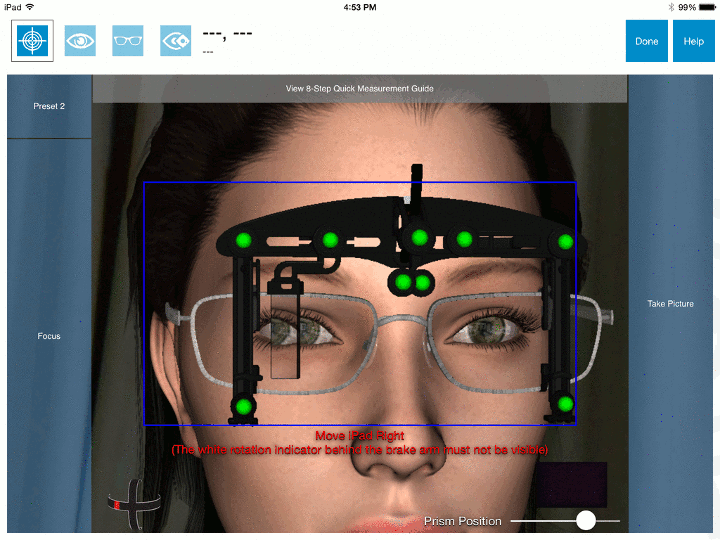 ---
Improving performance for athletes of all kinds
Binovi for Sports Vision Training
While much of the research in sports in the last few decades has focused on nutrition and bio-mechanics, the work has been done largely without changes to the visual system, leaving potential performance improvements on the table. Sports Vision Training is how we can help tailor that visual system, and those that rely on it, to improve performance in athletes across all sports, and all positions.
---
Revolutionizing how you train
The world's most advanced wireless light training system.
FITLIGHT® is an innovative speed, agility and neurocognitive reaction training system designed to train the body and the brain. Our Sports Vision specialists use the FITLIGHT® system in sports vision training, vision therapy and brain injury rehab sessions to improve reaction time, mental accuracy, sensory processing, and other neurocognitive attributes. It uses patented wireless light sensors and proprietary training programs to challenge users with engaging, powerful tasks.

---
At Horizon Eye Care & Optical we are proud to offer a more comprehensive vision exam using advanced, state-of-the-art eye-tracking technology. The RightEye system enables our doctors to pinpoint functional vision and brain health issues, identify the root cause of reading problems, and improve athletic performance.
In just 5 minutes, this proven, patented technology measures visual skills in ways that a standard eye exam cannot — enabling us to diagnose and treat underlying vision issues that affect our patients' quality of life.
Learn more about the benefits of Binocular Vision Training
Contact Horizon Eye Care & Optical in Sugar Land, TX at (281) 313-2020.
---
Senaptec
 

Strobe Training

It challenges your brain in a unique way no other tool can, by enabling you to train the mind and body together. By removing critical visual information, the brain is forced to process visual input more efficiently. This heightened visual capability enhances coordination, anticipation and decision-making resulting in faster reaction times, better ability to focus, and overall improved balance.
Strobe Training Can Improve:
Focus - Keeping the eyes on the target through completion of a task
Timing - Accurate and precise reaction timing

Visualization - Tracking of objects in the mind's eye

Quickness - Quick and accurate execution of a movement

Peripheral Vision - Awareness of your surroundings

Balance - Ability to keep your body in a stable position

Ahhh For Your Eyes™
If you suffer from headaches, end of the day eye fatigue, dry eye, dizziness or neck pain, a misalignment between your eyes could be the problem.
Average screen time has increased to 13+ hours per day since March 2020, and this acceleration is already having a profound impact. Based on data from over 160,000 patients, 82% of people experience the symptoms of eye misalignment at least some of the time. 
We are one of an exclusive number of practices who prescribe Neurolens – a revolutionary new lens design that corrects eye misalignment and has helped thousands of patients alleviate these symptoms.
Find out if you're a candidate. Schedule an appointment with us today.